Radiography
Purpose
Why do we need to take dental radiographs?
Radiographs are only taken when it will directly benefit your child's dental health. Dental radiographs allow us to provide your child with the highest standard of care through diagnosis and treatment planning. Radiographs help us discover developing tumour, cysts, abscesses, growth patterns, missing or additional teeth as well as decay. At least 35% of all decay is not visible to the naked eye.
Safety
How do we ensure your child's safety when taking dental radiographs?
In our office we only take dental radiographs when necessary and ensure that your child is exposed to the lowest dose of radiation.
• We use digital technology that is designed to reduce radiation exposure levels. Digital or computerized radiographs use less radiation than traditional films.
• Your child wears a protective lead apron which covers sensitive reproductive cells and bone marrow. Lead aprons weaken the scattered radiation by 94%.
• Our staff have been trained and certified in dental radiography courses.
What types of radiographs might we request?
Bitewings
These are radiographs of specific teeth in the mouth. The crowns of the teeth and sometimes part of the root of the tooth are visible. They help us detect cavities between teeth, the quality of any previous dental fillings and even the bone level around teeth.
They are called bitewing because your child will be asked to bite down on the film holder to secure the film in place.

Bitewing x-rays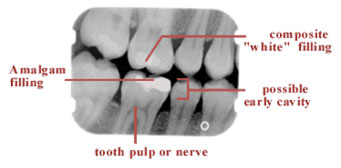 Periapical
These are radiographs of specific teeth in the mouth. The entire crown to root tip of the tooth is visible. They help us detect abscesses, cysts, bone levels, periodontal ligament health and root fractures.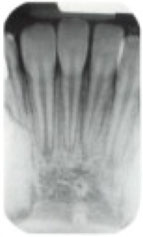 Pericapical radiograph
Occlusal
These are radiographs of specific areas, usually the front of the upper and lower jaws. They help us check on how the position and development of the permanent front teeth. They also are used to detect the presence and location of supernumery or extra teeth.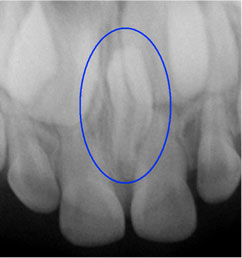 Occlusal radiograph showing a supernumery tooth within the palate (roof of the mouth)
Panorex
This radiograph includes the upper and lower jaws as well as the nose, orbits, sinuses, and tempromandibular (jaw) joint. It gives a general view of your child's developing teeth and jaw. It is often used to access space requirements for the permanent set of teeth, extra or missing teeth, jaw trauma, joint pain, wisdom teeth and other developmental or acquired problems (such as cysts).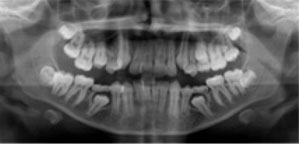 Panoramic x-ray
XRay dosages
(from the GenR8TNext newsgroup by Dr. Bruce Murphy)
The following exposures of bone marrow to radiation during typical x-ray examinations are listed below in millirems, a measurement of radiation.
The maximum on the job yearly exposure for Canadian and U.S. radiation workers has been set at 5,000 millirems. Low doses spread out over a period of time are not as harmful as large doses at once because the body has time to recover.
HIGH DOSE GROUP
Barium enema: lower GI series
Pelvimetry: examination to evaluate proportions of the birth canal
Barium meal: upper GI series
Mammography: breast examination
Lumbrosacral spine (lower spine)
Small bowel series
IV pyelogram
Lumbar spine
Thoracic spine
millirems
875
595
535
1000
450
422
420
347
247
MEDIUM DOSE GROUP
Gallbladder
Abdomen
Ribs
Pelvis
Skull
Hip
millirems
168
147
143
133
78
72
LOW DOSE GROUP
Cervical spine (neck)
Femur (upper leg)
Dental (full mouth series, 14 radiographs)
Dental (panorex)
Dental (bitewing)
You would have to take 1750 dental x-rays to equal the radiation in a lower GI series. One dental radiograph (x-ray) is 1/10000 of the yearly maximum recommended dose. To put things in perspective, each time you fly from coast to coast you receive 4 millirems of background radiation, or the equivalent of four panoramic radiographs. As well, there is background radiation from concrete buildings, roads and even the sun. Just standing around you receive more than 3 bitewing x-rays worth of radiation every day. In fact several researchers have published papers indicating that low level doses of radiation actually reduce cancer risks.
We would have to take almost 10,000 dental x-rays to reach your maximum safe yearly dose! When you weigh this against all the serious conditions such as decay, periodontal disease, abscesses and cancer that can go undetected without x-rays, it seems like a pretty fair trade-off.