Testimonials
Dear Dr. Gartner and team,
Thank you for all of your care and attention with Kiana this morning. As much as we tried to be upbeat with Kiana about the procedure and its results, Kris and I were very anxious and concerned. Your gentle touch, wonderful interaction with her and fine, speedy work were greatly appreciated. Thank you all very much!
Best, Lynda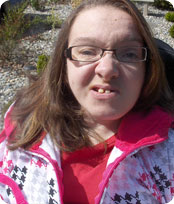 Hi!
My name is Andrea. Dr.Anita Gartner has been my dentist for many years. She has been the best dentist in the world for me! She is very gentle and has taken good care of my teeth.
Dr.Gartner knows that I love to have nail polish on!  I even wear Canuck Colours sometimes because I love the Vancouver Canucks! Dr.Gartner always checks what colour my nails are when I see her. Whenever I have an appointment with Dr. Gartner she always is interested in what all I have been doing. I love going to see Dr.Gartner because she is always so friendly.
I should add that I was very impressed with the pediatric dentist, Dr. Anita Gartner at Tot 2 Teen dental office in Yaletown. She was great with Bronwyn and explained everything that was happening.
More testimonials coming soon!